S.N.S. General Contracting & Remodeling - FAQ's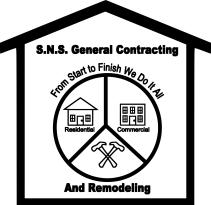 165 Wilbraham Road - Hampden, MA  413-566-5868

Can I get a free estimate? Yes, I will gladly give you a free verbal estimate.

Where do you buy your materials? Mostly from local suppliers.

Do I need a permit? If the project is major, you will likely need a permit.

Can you create drawings of my project? Yes, dimensional drawings can be created for you.

What are your working hours on site? Mon-Friday 8am to 4:30pm

How far will you travel to do a job? Most of my work is within Western MA however I may go further depending upon the project.

What type of payment do you accept? I accept cash or personal check.

Do you have any reference reviews on-line? Yes, please visit Angie's list.